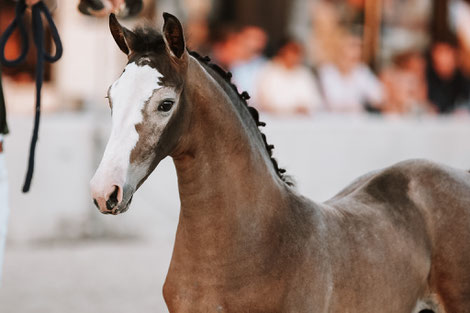 Online paardenveilingen waren er al voordat de Covid-19 uitbrak, maar feit is dat de online verkoop van paarden exponentieel is gegroeid het afgelopen jaar. Meerdere keren per week zijn er veilingen van sportpaarden, veulens en embryo's, maar wanneer en waar? Amazone en marketeer Wendy Scholten heeft www.horseauctions.eu gelanceerd om overzicht te bieden in de veilingwereld. Horse Auctions Europe kan als startpunt gezien worden van kopen op veilingen.
"Als marketeer van een aantal succesvolle veilingen maar ook als klant vind ik het buitengewoon interessant om te volgen hoe de veilingen gaan. Buitenlanders die niet naar Europa kunnen komen om paarden te zoeken, shoppen tegenwoordig volop achter de computer.  Ik neem zelf ook vaak een kijkje en heb al meerdere online aankopen gedaan, maar het is amper bij te houden wanneer de veilingen zijn. Ik miste een platform waarop je alle belangrijke veilingen in Europa kan vinden. Deze is er nu dus en ik kan je zeggen, de lijst is lang! En dan moeten heel veel veilingen hun datum nog bekend maken", vertelt Wendy Scholten.
Wie Horse Auctions Europe volgt op Facebook en Instagram, ziet regelmatig posts en verhalen over komende en lopende veilingen. "Deze posts zijn gratis voor veilingorganisaties, net als een plekje op de veilingkalender. Er zijn natuurlijk wel diverse mogelijkheden om de veilingen extra onder de aandacht te brengen. Een rechtstreeks link naar de veilingcollectie of vakkundige promotie op Social Media om simpel duizenden mensen te bereiken en talrijke potentiële klanten naar de veilingwebsite te krijgen. Ik ben ervan overtuigd dat dit interessant gaat zijn voor veilingen en bezoekers", vertelt ze. 
Meer informatie:
www.facebook.com/horseauctionseurope
---
Horse Auctions Europe: starting point for buying at auctions
Online horse auctions existed before the Covid-19 outbreak, but the fact is that online horse sales have grown exponentially over the past year. Several times a week there are auctions of sport horses, foals and embryos, but when and where? The Dutch rider and marketer Wendy Scholten has launched www.horseauctions.eu to provide an overview of the auction world. Horse Auctions Europe can be seen as a starting point for buying at auctions.
"As a marketer of a number of successful auctions, but also as a customer, I find it extremely interesting to follow the auctions. Clients who cannot come to Europe to look for horses, nowadays do a lot of shopping behind the computer. I often take a look myself and have already made several online purchases, but it is difficult to follow all auctions since there are so many. I was missing a platform where you can find all important auctions in Europe. So, here it is and I can tell you, the list is long! And many auctions still have to announce their date", says Wendy Scholten.
Anyone who follows Horse Auctions Europe on Facebook and Instagram will regularly see posts and stories about upcoming and current auctions. "These posts are free for auction organizations, just like a spot on the auction calendar. There are, of course, various options for drawing extra attention to the auctions. A direct link to the auction collection or professional promotion on Social Media to easily reach thousands of people and get numerous potential clients to the auction website. I am convinced that this will be interesting for auctions and visitors, "she says.